See Your Farm In a New Light: NIR Spectroscopy on the Farm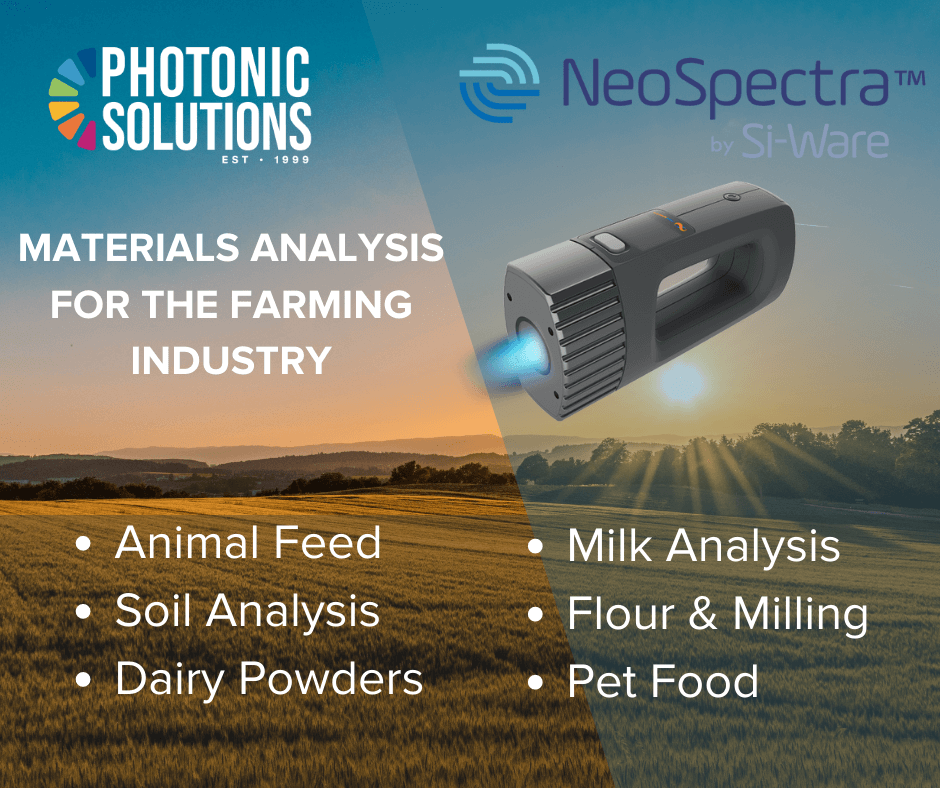 We need practical solutions for materials analysis. By putting useful, actionable data into the hands of the farmer, we can solve these challenges.

This is where modern technology comes in.
NIR Solutions
Near Infrared (NIR) Spectroscopy is a long-established, well-tested technique to measure Near InfraRed light reflected and scattered through a sample. The reflected wavelengths allow us to identify a material's properties. This includes the nutritional, physical and chemical makeup of the sample.

By comparing this reflected data to databases of samples, we can see the exact makeup of the material.

NIR Spectroscopy can analyse crops, soil, milk, animal feeds, plants, textiles, and much more.
Having reliable data in your hands lets you analyse samples on-site and make the best decisions for your business in real-time.

"Near InfraRed (NIR) spectroscopy is a spectroscopic method that uses the near-infrared region of the electromagnetic spectrum (from 780 nm to 2500 nm)"
Si-Ware
Lots of applications need a large array of calibrations.
Si-Ware has collaborated with trusted names in the agriculture industry to build the world's most comprehensive store of analysis models. Each model fills a different need based on your end use.

Each use (grain, soil, feed etc.) needs a different model to identify and analyse materials. Selecting the correct model will allow you to compare your data to reference samples.
By partnering with research facilities and agricultural labs in the US and UK, Si-Ware and NeoSpectra have built a broad, centralised store of calibrated models to measure the physical, chemical, and nutritional makeup of materials.
"Historically, NIR users had to build their own calibration models, buy them for a high price or search for a partner that had a calibration model that worked with their platform. NeoSpectra by Si-Ware's partnership with Aunir gives them the power to choose which calibration model is best for their business." Ralph Hewitt, Vice President of Global Sales, NeoSpectra
Farm Applications
At every step of your production process, having accurate insights is essential. Especially ones that allow you to make decisions and streamline your operations.
Having this data is important for knowing the health of your farm, and what improvements you can make.
An on-site non-destructive testing method means you can analyse the material content of grains, silage and forage at every step using a portable scanner that can work across different departments and locations. There are calibrations that will allow you to track the health and moisture levels of different crops rapidly and easily. This centralised network and cloud-stored data system cuts guesswork and increases the accuracy of sample analysis.

Feed
When you scan your animals' feed, you will be able to see exactly what you are giving them. This will let you see the nutritional content of their diet and identify any unwanted ingredients.

Knowing exactly what you are feeding your animals will let you better track their health and adjust their diet to improve their output.
As with all elements of farming, feed production is becoming more regulated. Testing, record keeping, and supply chain management practices are putting you under increasing strain.
All these new measures add time and extra stress to already busy staff, who need to add extra time to wait for sample analysis from outside labs. This extra work reduces efficiency and is prone to errors.
Using NIR Spectroscopy on-site brings the lab to the feed mill.
By testing and analysing samples at all steps of the feed milling process, you can reduce wastage, improve efficiency, and focus on the important parts of running a business.
Soil
Healthy soil is a limited natural resource. Managing the fertility of your fields sustainably will improve yields and reduce costs.
You need different soil nutrients for different crops. Using a portable scanner you can measure soil health at the source. This includes organic matter, carbon, nitrogen, phosphorous, and pH levels.

Milk

Improving the health, nutrition and well-being of your herd is more important than ever. You want to manage your herd and make data-driven decisions from rapid analysis on-site.
Evaluating milk composition with a NIR spectrometer will identify issues and let you make these decisions.

Milk composition tells you a lot about the health of your herd. You can identify nutritional deficiencies and make the necessary changes.
Using the NeoSpectra models, tagging data from individual animals gives even more accuracy. This lets you keep track of the output of a single animal, giving you macro and micro-monitoring options.
If you are using your milk products for powdered end-usages, you need to know the nutritional content at different stages.
Powdered dairy products have strict nutritional specifications. Being able to analyse your product ad different stages of the evaporation process will help maintain specific fat, protein and lactose levels.
Being able to test for all these with one, hand-held scanner gives you more control. Control over the consistency of your product, and control over costs to maximise yield.
Improve Your Farming
Many tests are available to identify health of crops, herds, and soil.
But, many of these require time sending samples to a lab and awaiting results. Having a single, handheld system connected to a library of calibration programs removes this time.
Using spectroscopy solutions you will save time, improve efficiency, reduce feeding and fertiliser costs.
From field to factory, you will be able to analyse samples and compare these to thousands of calibration models using simple software.
No matter what your crop, you can connect to a calibration model and analyse the makeup and moisture levels of a sample. This will give you insight across all the data points that matter to you.
Solutions
Working closely with institutions and companies such as Cargill, Dairyland Labs, The University of Sydney, the University of Alberta, Cornell, ABVista and Rock River Laboratory, SiWare have developed the NeoSpectra scanner.
Collaborating with these recognised names in the agriculture sector has allowed SiWare to create a suite of analysis models for a range of materials. Having access to this gives you the opportunity to analyse and compare data.
They created this IP65-rated, hand-held device with rugged, farm use in mind.

Having the ability to analyse at wavelengths common to materials in the agricultural sector on-site solves many common headaches.
- Save time with on-site testing and instant results.
- Improve efficiency with herd and feed monitoring.
- Monitor animal and plant nutrition to ensure you are giving your livestock what they need.
- Diagnose plant diseases early and course correct and improve overall health of your crops.
Save time, save money and increase yields, increasing your profits with the help of the NeoSpectra.
Using the suite of calibration models available through the cloud and accessible on your phone, you can get real-time results in the field.
Test:
· Feed ingredients
· Flour milling
· Animal feed
· Forages
· Oilseed processing
· Pet food
· Dairy Products
· Food Ingredients
· Textiles
· Plastics
Lower feed costs, boost efficiency, verify label claims, and more, all in one platform.
At Photonic Solutions, we have the technologies to bring your ideas to life.
Call us today to ask about how the Si-Ware NeoSpectra scanner will improve efficiency and take your farming into the future.